Image via Pantone
I've shot a lot of weddings over a lot of years and one thing is for certain: styles and trends come and go. In honor of the announcement of Pantone's 2020 Color of the Year (a gorgeous classic blue), I'm sharing my wedding photographer's perspective on some of the wedding trends I've seen in 2019 that I think will continue into (or disappear completely) in 2020!
On its Way Out: The Garter and Bouquet Toss
Throughout 2018 and 2019, I've seen a huge decline in the typical garter and bouquet toss at wedding receptions. Now that's not to say that nobody is doing it, because there certainly are still some couples who choose to partake, however, I'd say that a solid 60-70% of my couples in 2019 have skipped it and I imagine this trend will continue into 2020.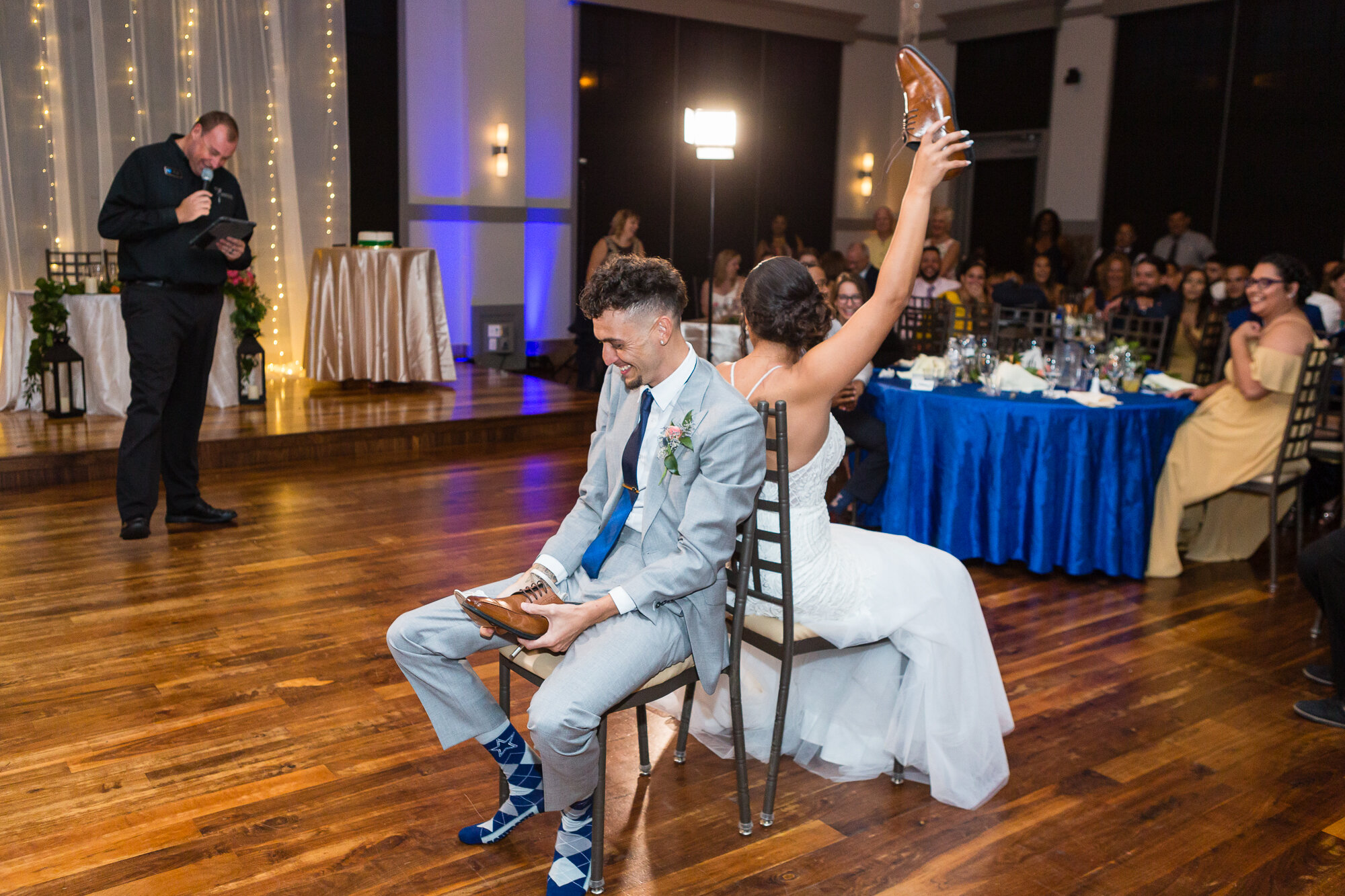 Growing in Popularity: The Shoe Game
With the garter and bouquet toss falling out of favor, the shoe game has increased in popularity. For those who might not be familiar with the game, the couple sits back-to-back on the dance floor holding one of their own shoes and one of their partner's shoes. The DJ asks questions like "who is the messiest?" and "who is the better driver?" and the couple raises the appropriate shoe to indicate their answer. Playful flighting, cheers and jeers from the guests, and hilarity ensue.
On the Rise: Mixed-Gender Wedding Parties
These days it's not uncommon to see a man of honor or a best woman in wedding parties and, let's be honest, trend is the wrong word here. Your friends are your, friends, no matter their gender, and I'm so happy to see weddings breaking free of the single-gender wedding party tradition.
Seeing a Resurgence: Something old, something new, something borrowed, something blue
The Victorian-era saying goes "Something old, something new, something borrowed, something blue, and a sixpence in your shoe". These items were traditionally meant to bring a bride good luck when carried on her wedding day. In the mid-2000s, the tradition seemingly fell out of favor, but I've seen it come back in a big way in 2019. Will the trend continue into 2020? I'm thinking yes, especially after Taylor Swift referenced it in her song Lover with the lyric, "my heart's been borrowed and yours has been blue, alls well that ends well to end up with you".
Bigger Seems to Be Better: Veils
Maybe this is just a Florida thing — because hello, windy! — but for a while veils were short to non-existent, especially at outdoor wedding ceremonies. But this year, bigger is better! Cathedral length veils were big in 2019 and I predict will continue to be on-trend in 2020 because who doesn't want to be a bit extra on their wedding day?
The Trend that Keeps Growing: Mix-and-match wedding party dresses
Whether it's a single dress style in a variety of colors or a mix of dress styles in a single shade, this trend has been on the rise for years and I am obsessed! It's a great way to embrace the uniqueness of your wedding party, while still keeping a cohesive look.
Your turn: What wedding trends are you loving lately?