Cinderella Castle Proposal | Brittany + Simon at the Magic Kingdom
Brittany thought her Mom booked a family photo shoot to commemorate their Disney trip. Little did she know that Simon and I, along with her Mom, were conspiring for a Cinderella Castle Proposal.
I met up with Simon, Brittany and her family by the Partner's Statue and we headed over to the castle for their family photo shoot. We started out with a group photo of everyone who was on the trip. Then, as planned, Brittany's mom asked to do a photo of just her and Brittany. I was happy to oblige! Then I suggested we do something creative and had the mother-daughter duo turn and face the castle.
This was Simon's cue! While Brittany and her mom faced the castle, Simon got down on one knee and, well, see for yourself! Isn't Brittany's reaction the cutest?
The whole crew, celebrating their Disney trip
Mom and daughter
Let's do something creative! Turn and face the castle for me!
Wait, what's this?
I think Brittany was in shock here!
"Mom, you knew?"
Mom's reaction is everything!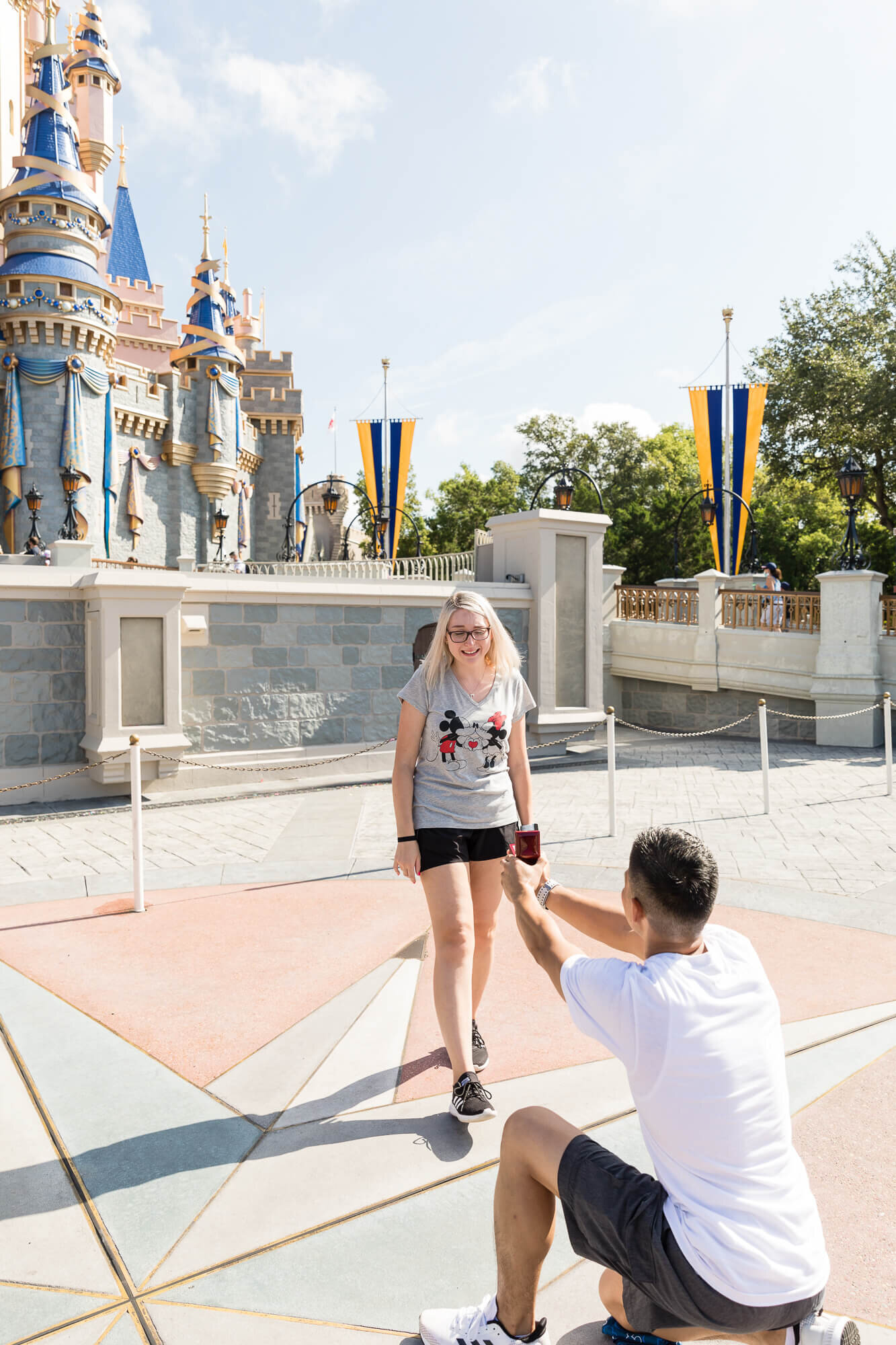 Of course Brittany said yes!
It fits!
The iconic shot for a Cinderella Castle proposal!
The newly engaged couple!
Simon and his co-conspirators even had matching "I asked" and "I said yes" shirts ready. They also had mouse ears and Disney's famous Celebrating Happily Ever After buttons!
Simon definitely pulled off the surprise of a lifetime!
Check out that bling! Which is prettier: Cinderella's Castle or Brittany's shiny new engagement ring?
Here's to Happily Ever After! Congrats to Britty and Simon! And thanks so much to their family for helping make this moment extra magical for the couple! It's always nice to pop the question surrounded by loved ones. And having co-conspirators tends to help make marriage proposals go more smoothly!