Best Engagement Photo Locations in Orlando (9 Awesome Spots!)
So you just got engaged and you're looking for the best engagement photo locations in Orlando? Look no further because this list of locations in and around Orlando will give you all the inspiration you need to plan your perfect engagement photoshoot!
My first location suggestion is always going to be to pick a spot that's meaningful to the two of you as a couple. Maybe it's where you had your first date, where they proposed, or the coffee shop that you've spent every Sunday morning of your relationship. Locations that have meaning to the two of you will always be the best engagement photo locations in Orlando. But if you're drawing a blank or looking for a location to suit a specific vibe, read on!
Note: All prices current as of publication date

Located on the shores of Lake Virginia in Winter Park, the Rollins College campus is an ideal location if you're looking for an architectural vibe. The Spanish Mediterranean architecture provides plenty of interesting columns and arches that make for lots of fun photos. Then, as the day draws to a close, head down to the banks of Lake Virginia for pretty moss-draped trees (seen in Yanique and Dominic's engagement photos above). The college's proximity to Park Avenue means you can get more bang for your buck and head over there to nab some sweet photos as well. A word of warning: choose your on-campus parking spot carefully as many are reserved for students and faculty. Look for visitor spots or park on the Avenue and it's a short stroll to campus.

Address: 1000 Holt Avenue, Winter Park, FL
Dogs allowed?: No
Permit required?: No
Admission Fee: None
Best Time to Go: Crowds are lower when school is out of session. Choose the end of the day for dreamy sunset light along the shores of Lake Virginia.
---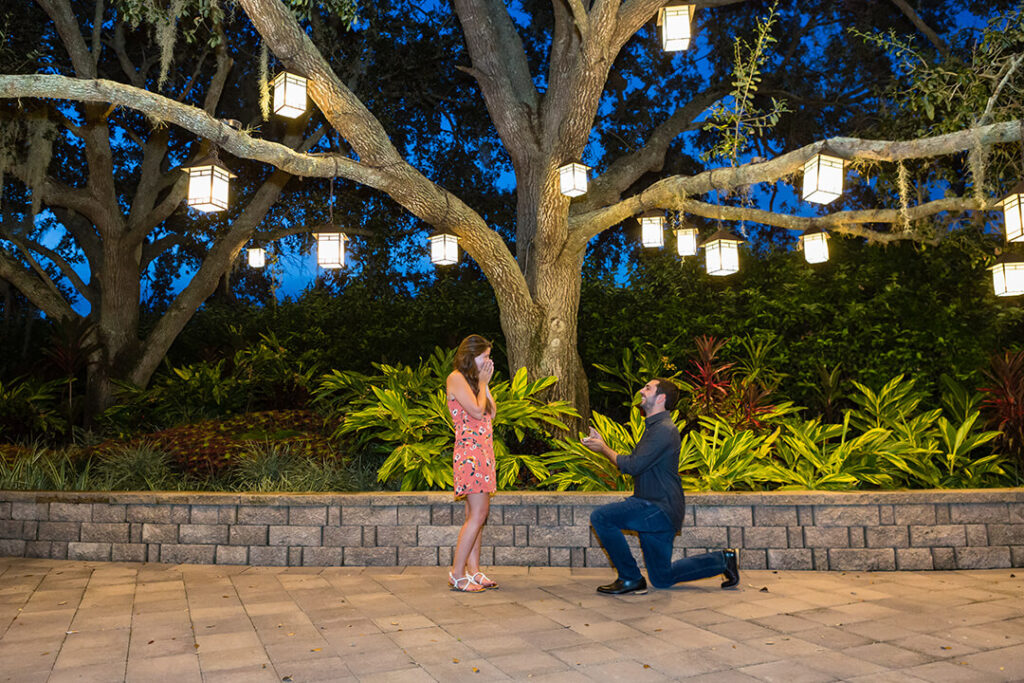 The Oak Terrace wedding venue, pictured above, is the quintessential photo spot at the Hyatt Regency Grand Cypress. The Disney area resort also features a small beach, lots of green space, and fun architectural features (like a swinging bridge) that make for cute photo opportunities. Blue hour (the 30 minutes after sunset) is the picture-perfect time to shoot at Oak Terrace. Start your one-hour session 30 minutes before sunset to get a wide variety of shots in different locations with different lighting.
Address: One Grand Cypress Boulevard, Orlando, FL
Dogs allowed?: Yes
Permit required?: No, but paid events like weddings may takeover the terrace. So if you want to guarantee it, call their events department to book the spot.
Admission Fee: No admission fee. Standard Parking $25+tax, Valet Parking $37+tax, Premium self-parking $50+ tax
Best Time to Go: Weekday evenings, just before sunset. Try to avoid summer and holidays when tourist crowds are at their peak.
---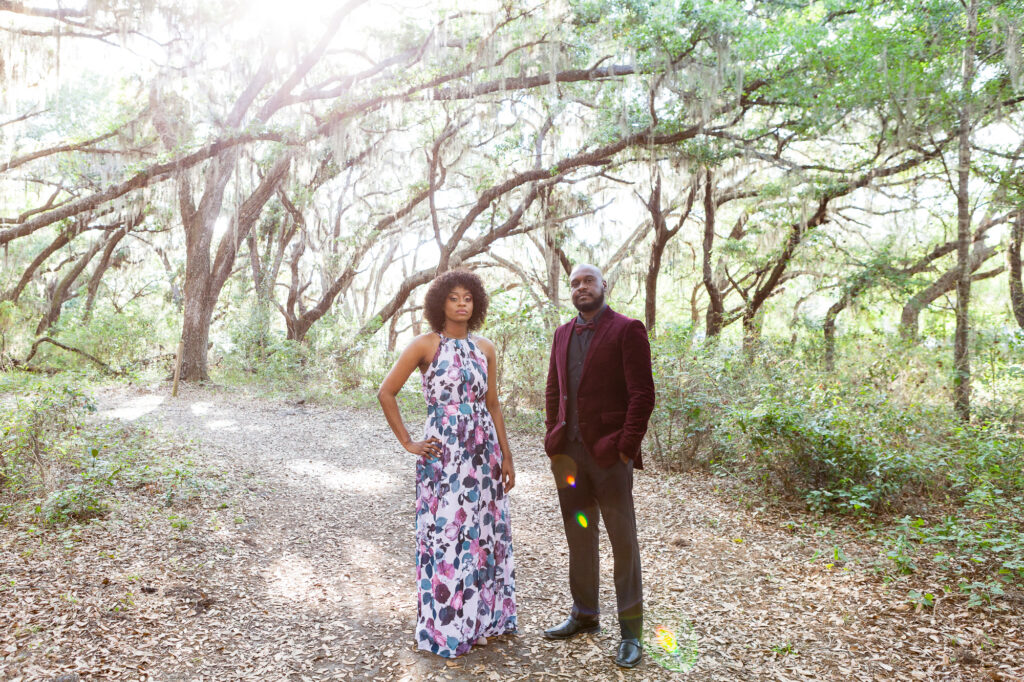 This 43-acre nature preserve is located in St. Cloud, along Lake Runnymede. Large mature oaks dripping with native ferns and air plants give the area a magical quality. If you've ever wanted to go to the Lord of the Rings' Lothlorian, this is the closest you'll get in Florida! Hidden in the back is a tall grassy field that offers up a completely different vibe. The ground is mostly dirt or mulch and uneven, so make sure your shoes are made for walking (or bring a comfy pair and swap them out when we stop to shoot). There's a small rustic restroom (one step up from a portapotty) that's ideal if you want to do a quick wardrobe change during your session.
Address: 4600 Rummel Road, St. Cloud, FL
Dogs allowed?: Yes
Permit required?: No
Admission Fee: Yes
Best Time to Go: 90 minutes before sunset. The tree canopy means it gets darker earlier than you'd think!
---
A 205-foot marble and coquina Singing Tower is the main draw for this National Historic Landmark. The Tower is a Carillion, or a musical instrument containing bells. The bells ring on the hour and half-hour, with longer concerts at 1 pm and 3 pm, which makes a fun soundtrack to your engagement session! The gardens surrounding the tower are lush with palms, oaks, and seasonal flowers. The gardens are also a fantastic spot for weddings! The Pinewood Estate, pictured above, has unique architectural features that create fun photo opportunities!
Address: 1151 Tower Boulevard, Lake Wales, FL
Dogs allowed?: Yes
Permit required?: No
Admission Fee: $16/adult, $5/kids (under 5 is free), $5/dog *Pro Tip: If you have an annual pass for Leu Gardens, you can use it for admission to Bok Tower Gardens.
Best Time to Go: When they first open for the day. Crowds are lower and the morning light is dreamy!
---
What I love about Washington Oaks Gardens State Park, aside from the stunning ancient live oak, is the surprise beach that's included in your park admission fee. After strolling through the formal oak hammock-shaded gardens, drive directly across the street and check out the coquina rock formation-lined Atlantic beach. A rose garden completes this picture-perfect park, located just over an hour from Orlando.
Address: 6400 N Ocean Shore Boulevard, Palm Coast, FL
Dogs allowed?: Yes
Permit required?: No
Admission Fee: $5/car
Best Time to Go: The crowds are lower and the light is dreamy at the park's opening.
---

Lush with greenery that changes seasonally, Leu Gardens is one of my most-requested spots for engagement sessions! The 50-acre botanical garden features a breathtaking rose garden, seasonal plants, and flowering trees that offer endless backdrops for your engagement photos. Fountains and gazebos offer unique architectural elements and if you go on a weekday morning, you'll find the crowds low and the temperatures bearable.
Address: 1920 North Forest Avenue, Orlando, FL
Dogs allowed?: No
Permit required?: No
Admission Fee: $15/adult, $10/kid (under 3 free), $10 active military/veteran with ID
Best Time to Go: Weekday mornings mean lower crowds and cooler temperatures
---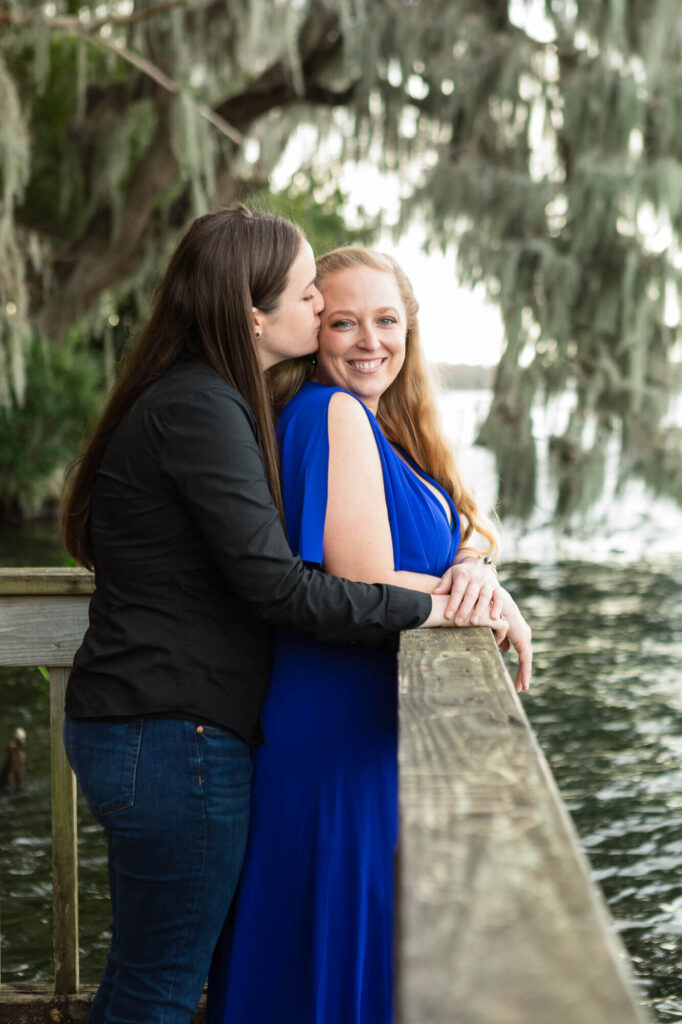 This is a super popular spot for engagement photos and with good reason! The 5+ acre garden features gorgeous cypress trees that give it an old Florida charm. With all that natural beauty and the Exedra, a gorgeous architectural feature, the garden is often packed with people. Weekdays offer lower crowds and the light streaming through the cypress trees near sunset makes for breathtaking images! While there is no admission fee to the gardens, the city of Winter Park does charge a small permit fee for photography. At the time of writing, the permit was around $25 but takes some time to get. So advance planning is a must!
Address: 1365 Alabama Drive, Winter Park, FL
Dogs allowed?: Yes
Permit required?: Yes (requires a small fee)
Admission Fee: No
Best Time to Go: Weekdays for the lowest crowds. 90 minutes for sunset for dreamy light streaming through the trees.
---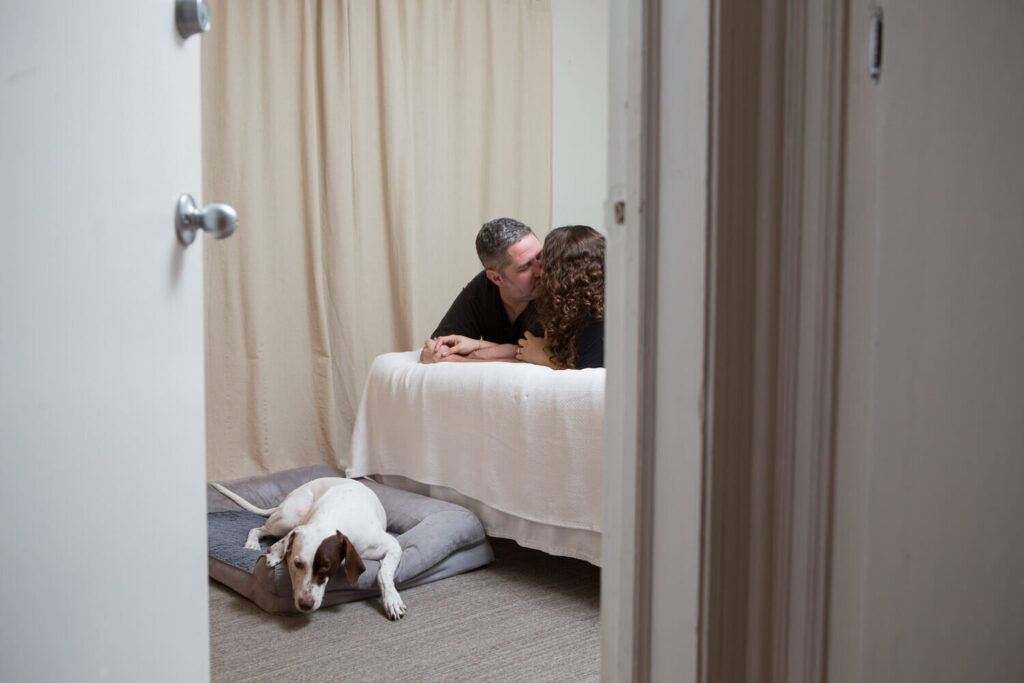 Your Home
Remember when I said the best engagement photo locations in Orlando locations are the ones that are meaningful to you as a couple? Well, there's no place more meaningful than your home! Don your sports jerseys and cozy up on the couch to watch the big game. Make brunch together! Snuggle in bed with your pup! In-home photo sessions are so personal and so beautiful!
Dogs allowed?: That depends on you!
Permit required?: No
Admission Fee: No
Best Time to Go: Anytime is a good time! If your home gets good natural light, we can work with that. If not, supplementing with natural-looking flash is an option.
---
Last, but certainly not least on the list of the best engagement photo locations in Orlando is Downtown Winter Park!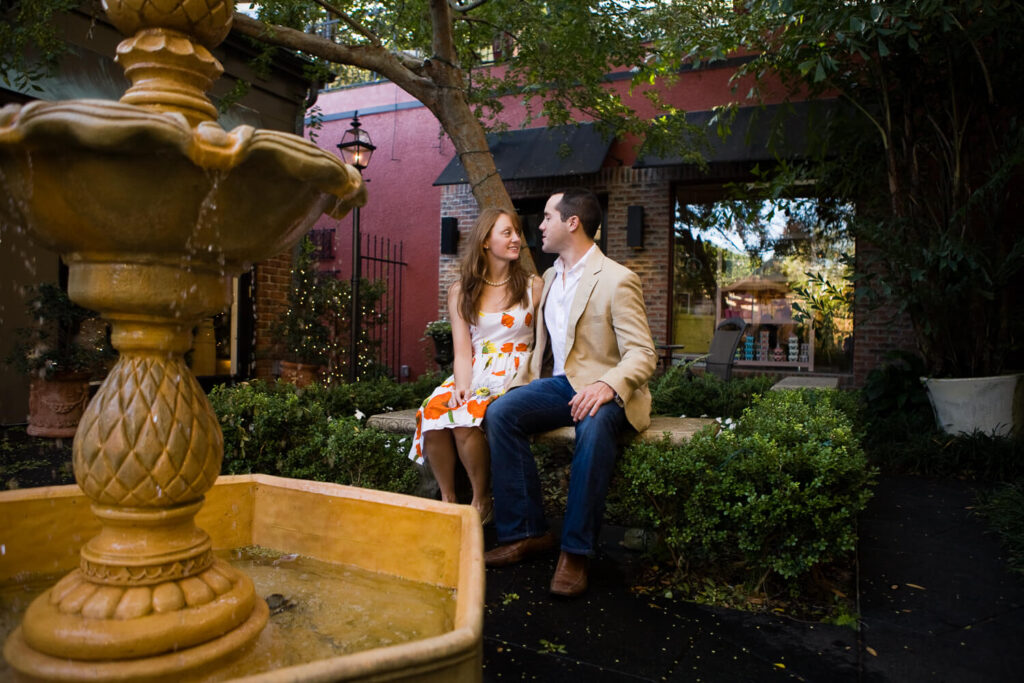 From the Winter Park train station and Central Park to Hannibal Square and a ton of cozy nooks like the one pictured above, Park Avenue offers endless photo opportunities! I find the best approach to be starting at one end and wandering your way to the other end, stopping to take photos along the way. Weekends get quite crowded, so aim for a weekday session. Dogs are welcome on most of the Avenue, but not in Central Park.
Address: Park Avenue, Winter Park, FL
Dogs allowed?: In most areas
Permit required?: No
Admission Fee: No
Best Time to Go: Weekdays or early Sunday morning. The Farmer's Market on Saturday morning means early morning crowds that day and evenings (especially on weekends) bring out the crowds for shopping and dining.